Par Karine CAZENAVE-TAPIE le lundi 22 juin 2015, 13:57 - Lien permanent
Bonjour tout le monde
J'espère que vous allez bien et que vous avez passé un bon week-end ! Pour ma part un week-end génialissime sous le soleil de Valencia ! Je vous avais promis des photos et de bonnes adresses à mon retour de NYC j'avoue que je n'ai pas eu une minute à moi depuis mon retour fin avril ! J'espère que ça ira mieux en juillet et que je pourrai vous préparer des petits posts !
En attendant je sais que certaines d'entre vous partent bientôt visiter The Big Apple alors quelques bonnes adresses SCRAP :)
Tout d'abord les jolies boutiques PAPER SOURCE il y en a plusieurs sur NY notamment une juste à côté du Musée d'Histoire Naturelle ! "Comment ça chéri, je te JURE que je tombe dessus par hasard !!!! "
J'aime son rayon carterie,trop joli, coloré et acidulé, de superbes tampons ! j'ai craqué sur une belle pastéque, un crabe, coquillages, ananas et j'en passe :) Maxence a trouvé quant à lui des balles pour jongler, chacun son truc ! N'hésitez pas à demander une petite démo si vous hésitez entre telle ou telle encre :)
Obtenez un bon de réduction en vous abonnant à la newsletter ! A présenter lors de vos achats pour obtenir un bon de remise de 10% :) Vous pouvez également commander en ligner et vous faire livrer gratuitement à votre hôtel avec le code FREESHIP100 pour toute commande au dessus de 100USD.
Cliquez ici pour trouver toutes les adresses aux Etats-Unis :)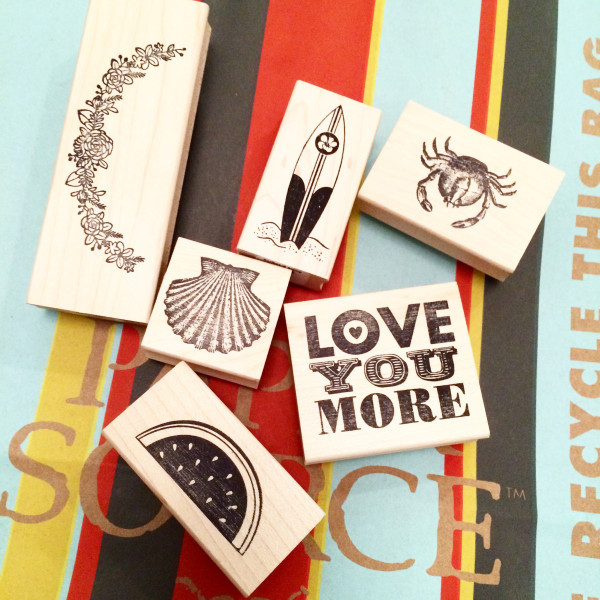 Pas loin du Flatiron Bulding, vous tomberez sur un grand MICHAELS le rayon scrap n'est pas tip top, mais il y a tout de même quelques affaires à faire ! Quand j'y suis allée, la marque HEIDI SWAPP était en promo. Vous pouvez faire ici le stock de perforatrices, colle et quelques blocs papier ou PL.
Voici l'adresse : 808 Avenue Columbus-Ouvert de 9h à 22h
Juste derrière, à seulement deux rues, ma boutique préférée ! THE INK PAD !!! si vous êtes comme moi fan de tampons bois c'est juste le rêve absolu ! Une toute petite boutique mais des tampons en long en large en travers !!! Vous tomberez certainement sur le tampon de vos rêves :)
Voici l'adresse : 37 Seventh Avenue (corner of 13th street)
La boutique est ouverte tous les jours ! de 11h à 19h du lundi au jeudi et le dimanche de midi à18h !!!
Vous pouvez y aller en allant visiter CHELSEA MARKET, 10 minutes environ à pied.
Voilà de quoi ramener quelques petits souvenirs de NYC :)
Pour rester sur ce même thème, je vous prépare pour la rentrée un joli kit thématique !!!! à suivre !
Bonne journée
Karine