Par Karine CAZENAVE-TAPIE le vendredi 23 septembre 2016, 11:49 - Lien permanent
Bonjour tout le monde !
Un petit ( long ) post un peu tardif pour vous parler de ma toute première collection Entre les Lignes des Ateliers de Karine ! Le lancement officiel a eu lieu ce mercredi et comment dire ??? Je pense que je ne m'étais pas préparée à un tel enthousiasme de votre part !!!! Juste INCROYABLE ! Ca été et c'est toujours de la FOLIE !!! Cette première collection est partie vitesse grand V ! Il y a déjà des ruptures sur certains produits et par choix je ne vais pas les réimprimer. Les boutiques disposent encore d'un peu de stock mais il n'y aura pas de réassort sauf sur les tampons que j'ai déjà recommandé car je vais les utiliser en long en large et en travers pendant de nombreux mois :)) voire des années car je suis très très conservatrice !
Je vous remercie vraiment du fond du coeur pour cet accueil qui va au-delà de mes espérances ! MERCI MERCI ! J'en profite pour remercier encore une fois Gwénaelle Scharlipp pour cette première collection ! Un travail d'équipe que nous sommes déjà en train de reconduire pour une nouvelle collection !!
Voici donc ma toute première collection ! Entre les lignes, que j'ai souhaité sobre, classe et intemporelle !
Un univers tout en douceur, légèreté et poésie pour laisser libre cours à son imagination. Des imprimés naturels, des mots doux, un brin nostalgiques, souvenirs des bancs d'école ou encore journal intime une collection pour raconter les petits bonheurs du quotidien. Une ambiance Vintage et chic pour tous types de projets et thèmes. A scrapper, coloriser selon vos envies. Des autocollants, dies cuts et tampons viendront compléter une collection de 6 imprimés recto-verso.
Pour répondre à vos nombreux messages, non, au grand jamais, je ne vais pas arrêter les ateliers ! Et je pense que c'est parti de plus belle ! Au contraire, je serai ravie de vous retrouver très vite avec mes collections ! J'ai confié la distribution de ma marque Kirelcraft,( si vous êtes revendeur c'est auprès d' Edith qu'il vous faudra ouvrir un compte ) pour être toujours disponible pour vous, pour pouvoir continuer à vous rencontrer et partager ma passion en atelier et également avoir le temps de vous préparer mes Kits boutiques mensuels :) Tout continue, je rajoute juste une nouvelle corde à mon arc en créant ma marque Les Ateliers de Karine.
Parce que j'avais envie de me faire plaisir avant tout, envie de scrapper, utiliser des papiers, des embellissements qui me ressemblent tout simplement...Après 14 ans de scrap intense, d'ateliers, de créations et de voyages, j'ai eu l'envie et le besoin de créer ma marque Made in France. Oui oui tout est fabriqué chez nous, en France, et c'est quelque chose qui me tenait vraiment à coeur et dont je suis très fière !
Je vous laisse maintenant découvrir Entre les Lignes. La toute première d'une belle série ( je l'espère) de collections qui nous ressemblent, parsemées de petits détails colorés ! Des univers différents qui racontent des histoires du quotidien, à scrapper sous toutes formes !
Les papiers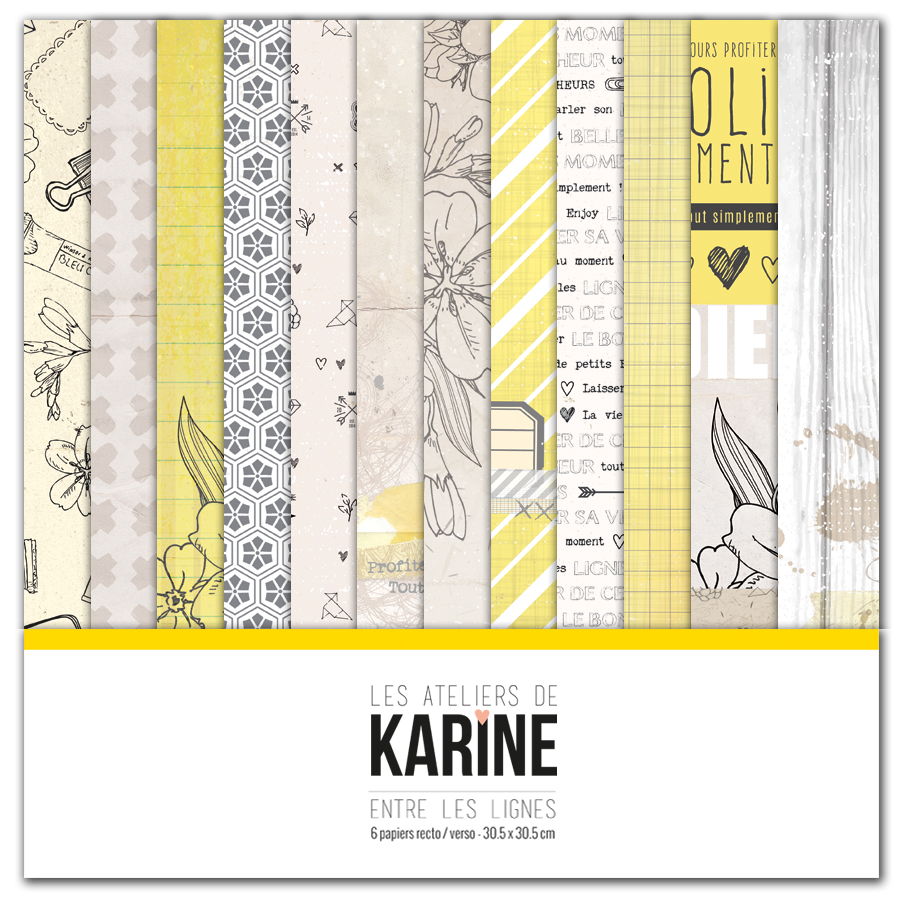 Les dies cuts :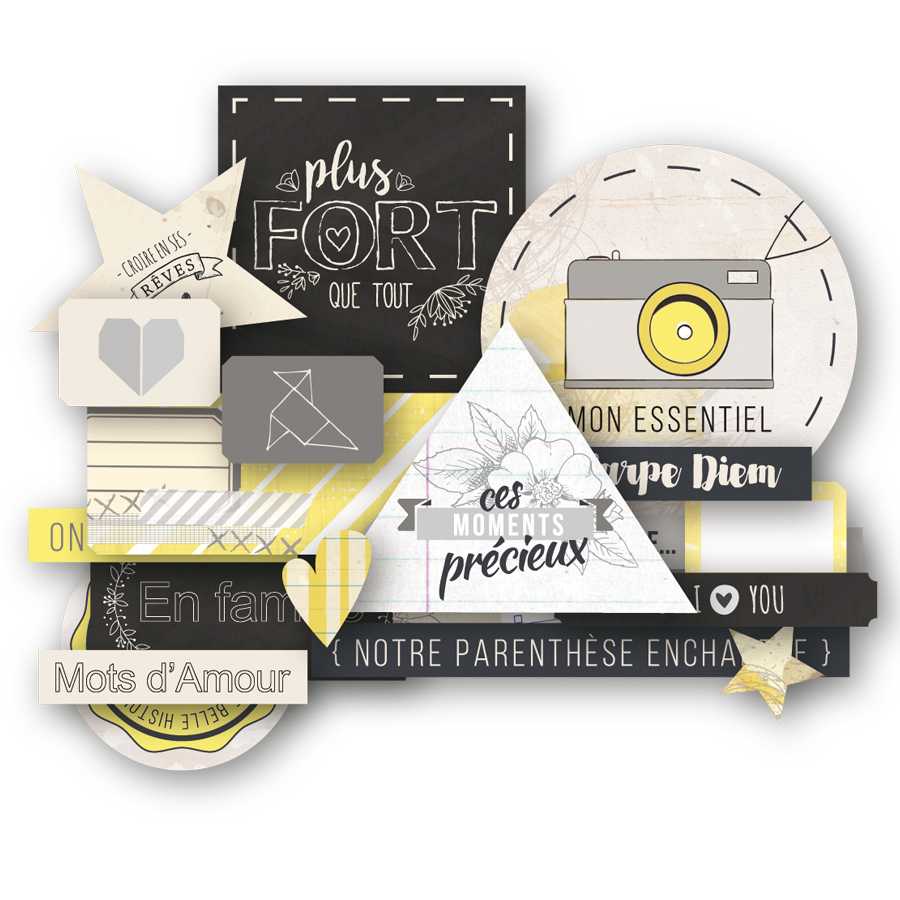 Les autocollants :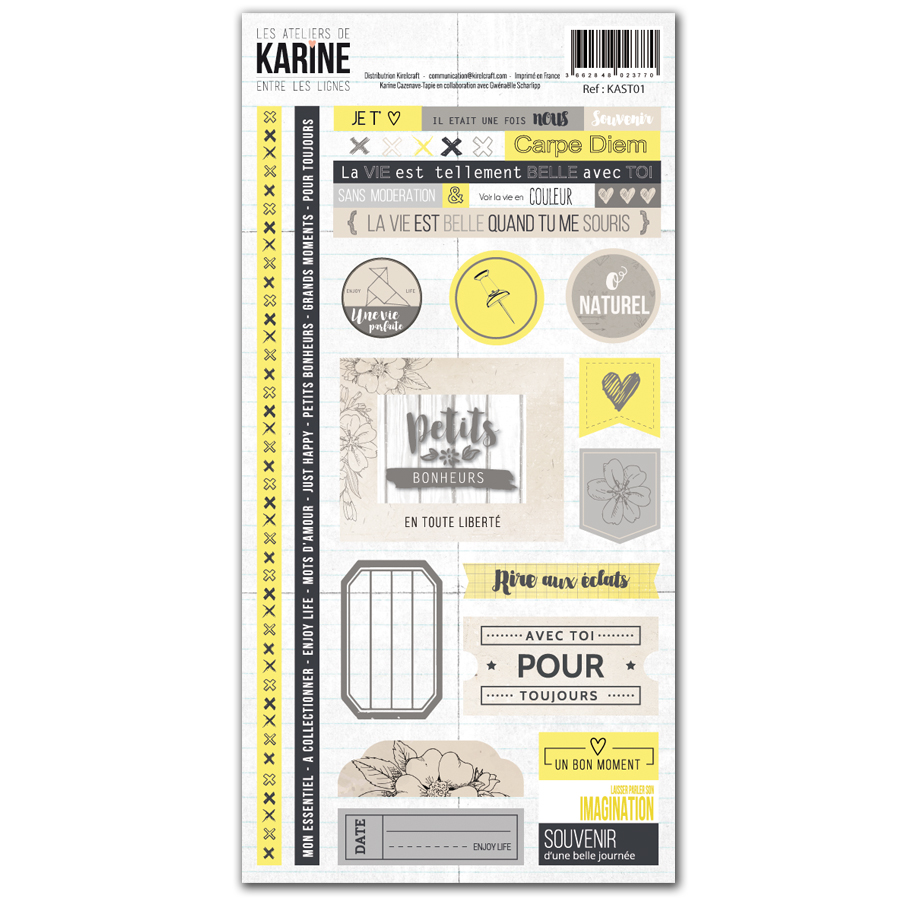 Et mes 12 références de tampons !!! :)
Plus fort que tout ! Une phrase que j'adore et que je dis très souvent à mon grand...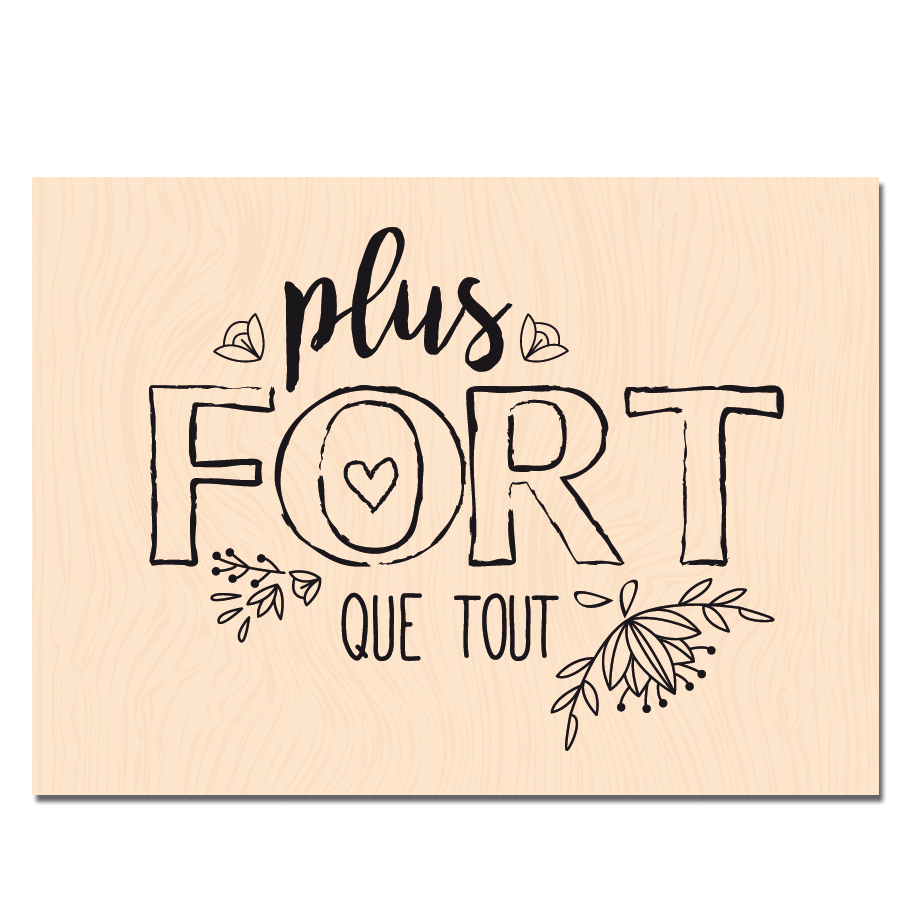 Pince-moi : The tampon, un mini format que j'imagine partout ! en couv' sur des photos, un de mes incontournable !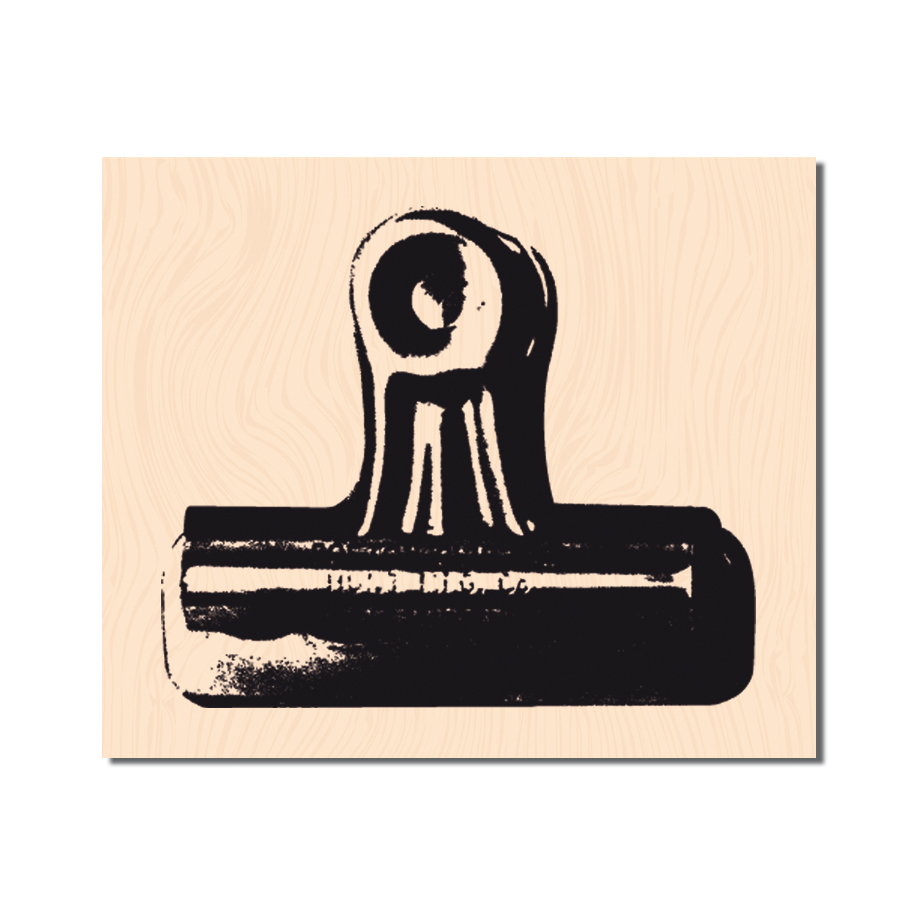 Fleur de Freesia : une fleur toute fine, facile à découper et idéale à coloriser...J'aime son côté aérien et tout en légereté !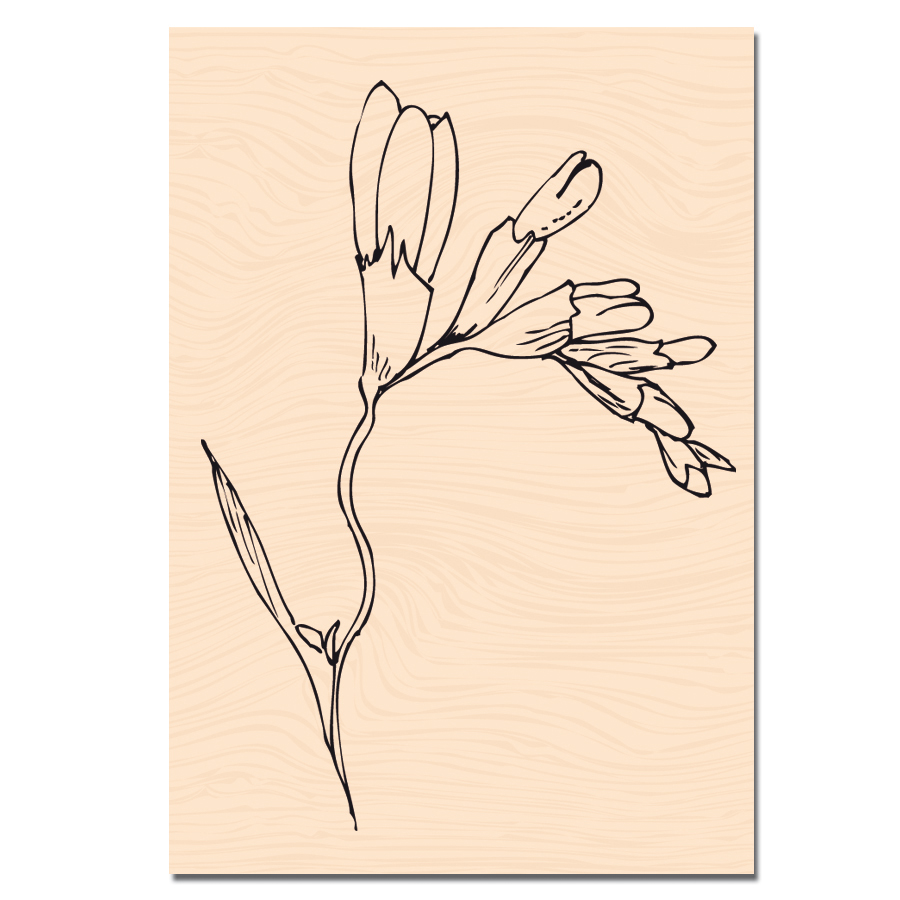 Petits Bonheurs : un indispensable ! parce que la vie est faite de plein de petits bonheurs !
O Naturel : Un titre que j'aime utiliser partout dans mes mini et pages de scrap, idéal à coloriser et à imprimer avec ou sans le texte !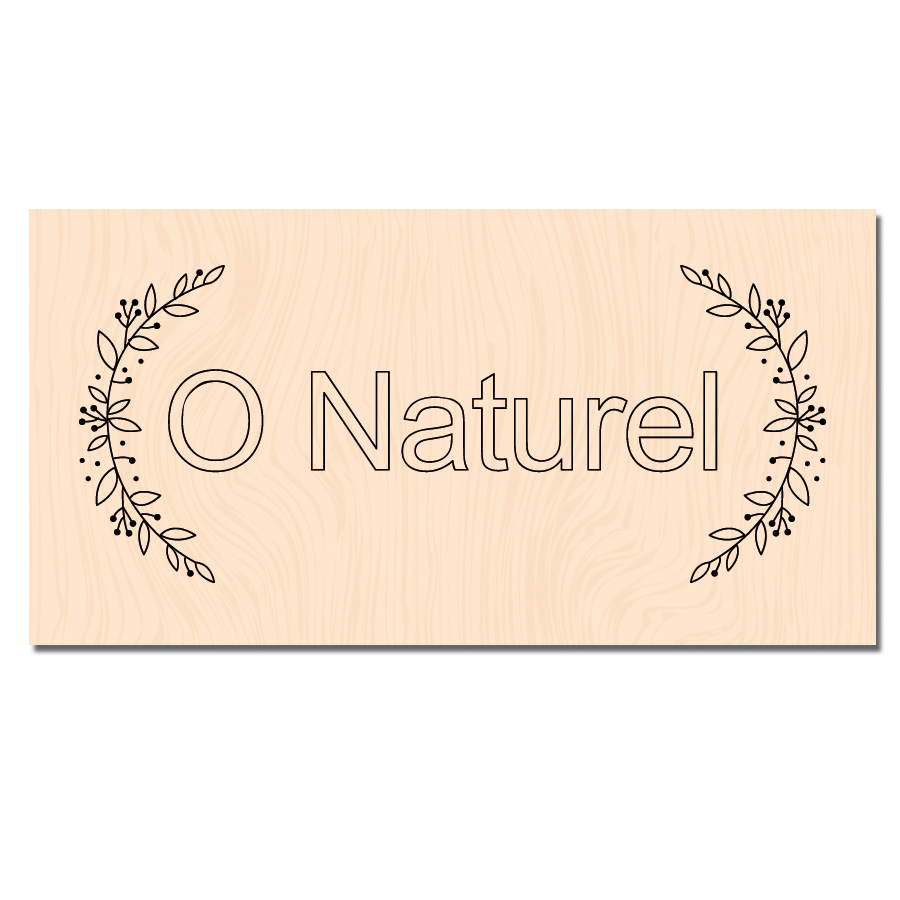 Jolis Moments : Un clin d'oeil à mon amie Valérie qui sait si bien immortaliser nos Jolis Moments :) et parce qu'elle m'acccompagne très souvent, parce que grâce à elle j'ai de belles photos et des souvenirs plein la tête, merci Valérie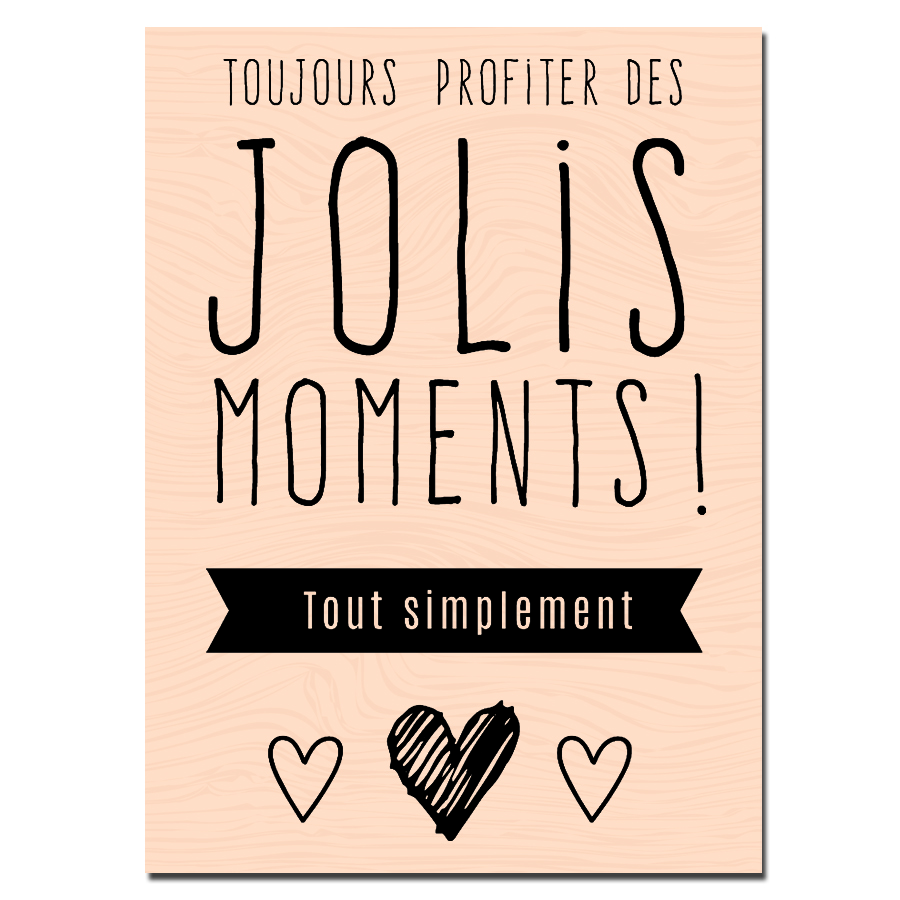 Jeu de Croix : parce que j'adore les CROIX ! je l'imagine en fond de page imprimé plusieurs fois en couleur pastels ou encore découpé individuellement et collé un peu partout tel un fil conducteur !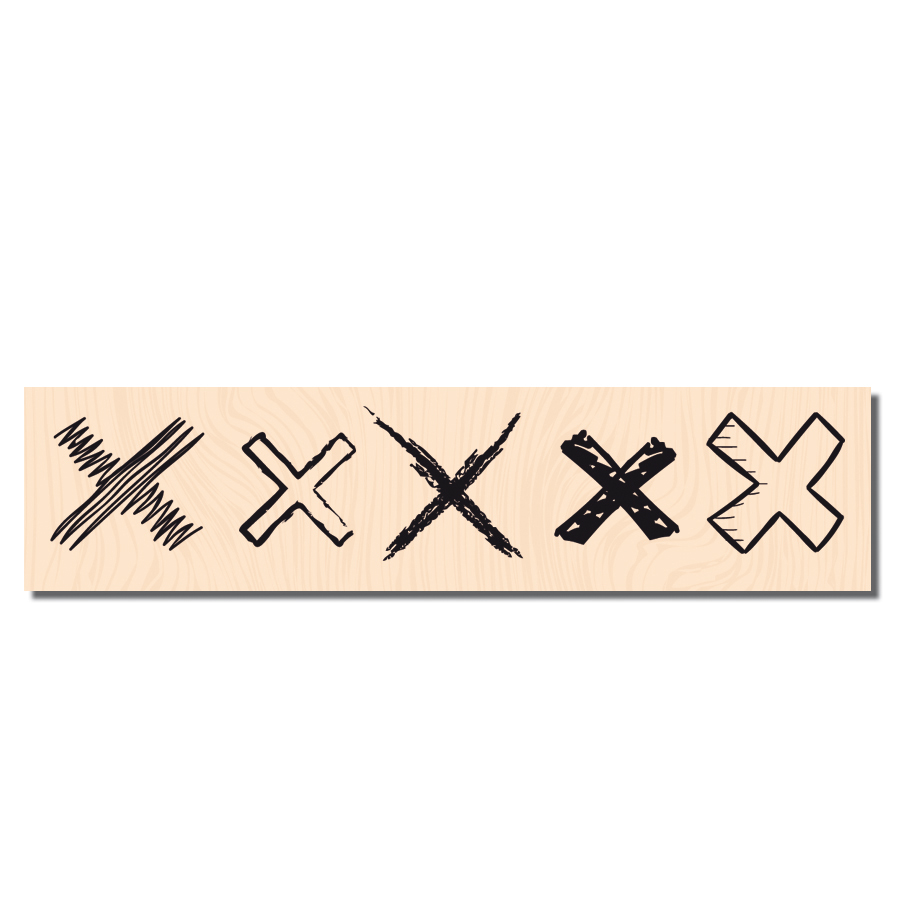 Mes p'tits précieux : le tout tout premier qui est arrivé comme une évidence ( et je suis ravie qu'il vous plaise autant !) je le vois partout sur tous mes mini imprimé en noir de préférence et découpé, je souhaite des petits motifs faciles à découper, coller...Il est là et je l'aime !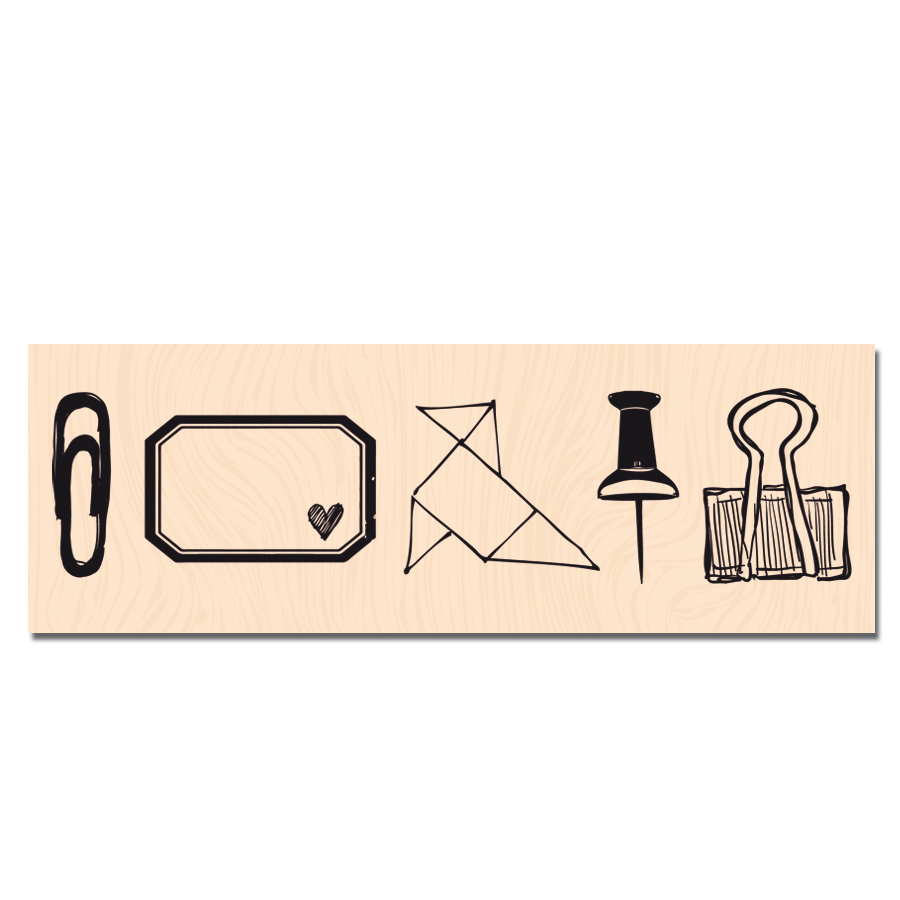 Entre les lignes : comme le nom de la collection....Parce que celles qui me connaissent savent que je fonctionne souvent ainsi....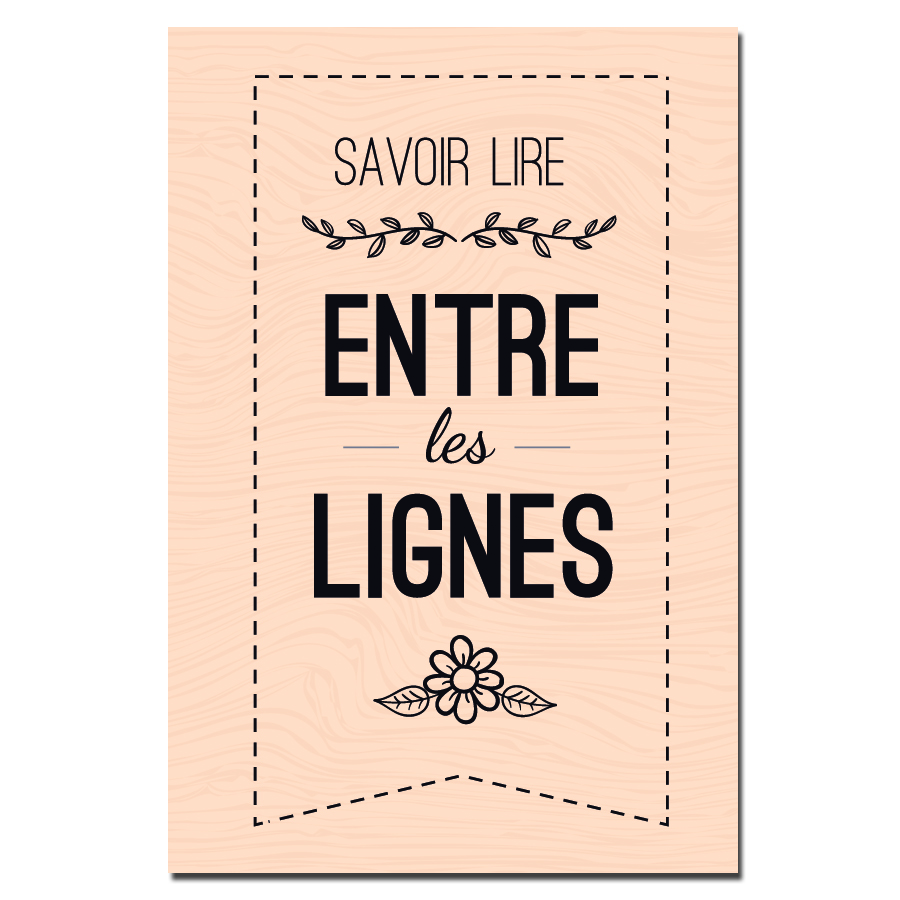 La vie en Rose : petit clin d'oeil cette fois à mon amie Flo qui se reconnaitra :) Parce qu'elle aime la vie en rose avec plein de paillettes partout, parce que même si elle est loin je pense fort à elle. Un motif à coloriser bien entendu, un tampon versatile que vous pouvez utiliser avec ou sans sa bannière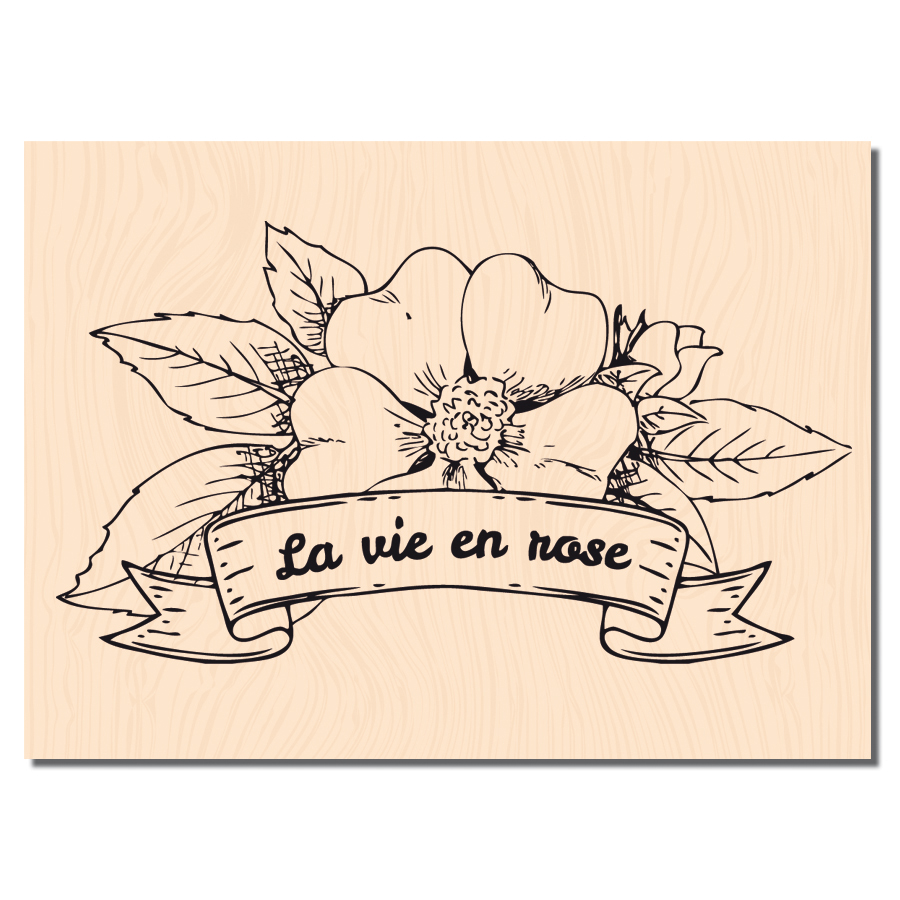 Ces moments précieux : Sans nul doute VOTRE préféré !!!! le réassort arrive très vite ! et sera dispo pour VS LYON le week end prochain ! A coloriser comme je vous le montre ici dans cette super vidéo de ma Soraya :)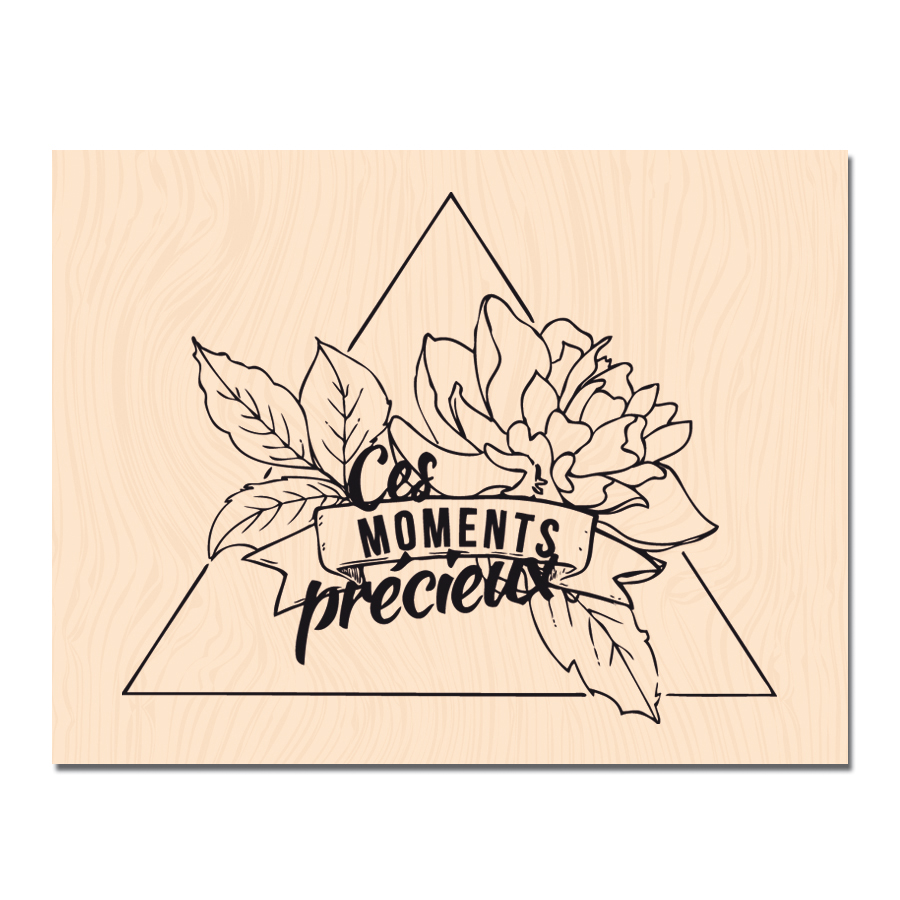 Et pour finir Voir la vie en couleur : parce que c'est une évidence pour moi ! Cette collection est assez soft niveau couleur mais attendez vous à une explosion de couleurs dès la prochaine collection !!!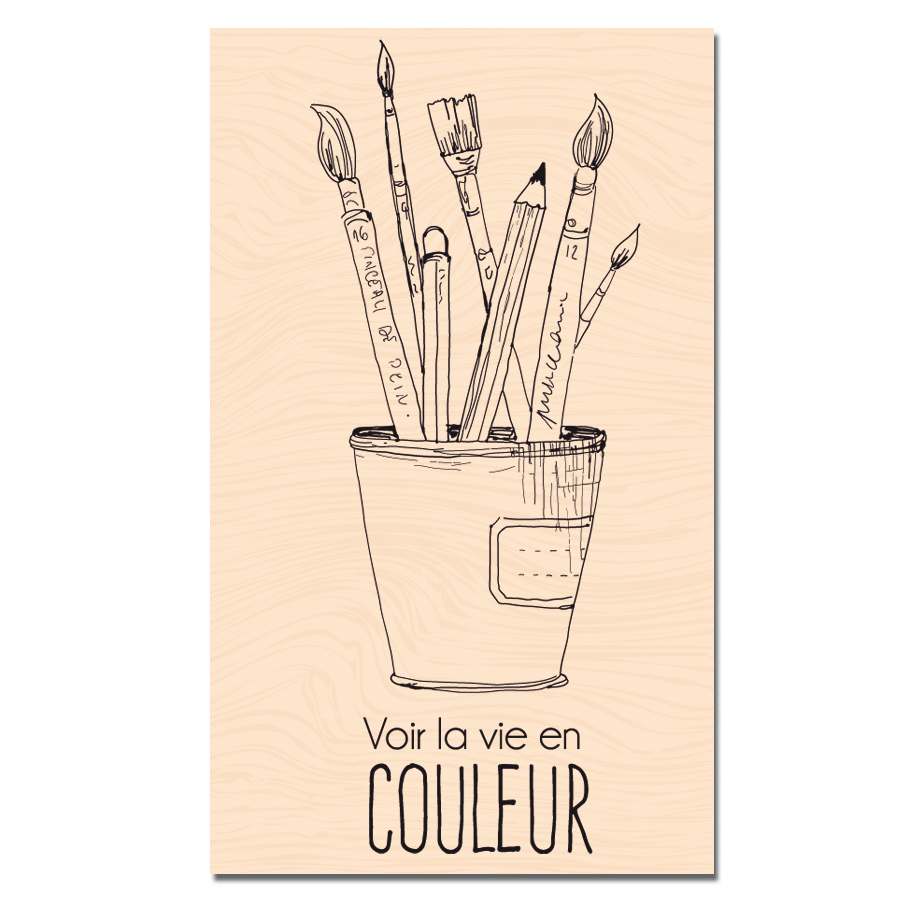 Je ne ferai pas de KITS BOUTIQUE avec cette première collection mais comme vous me l'avez demandé voici un TUTORIEL ! Un mini façon Livre d'Or que j'ai réalisé pour de jeunes mariés tels un Best Of de leur relation :) Un projet très simple et rapide à réaliser, je vous invite à découvrir ici plus de visuels :)
Merci à toutes encore une fois !
A très vite !
Karine
---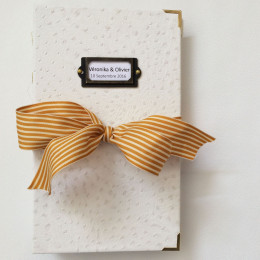 Tutoriel Mini Album façon Livre d'Or
---